Events in the diary are organised by affiliated groups. For non-member history related events see the news section.
Jan
20
Mon
2020
Naas LHG AGM & Slide Presentation

@ Town House Hotel
Jan 20 @ 8:00 pm – 9:30 pm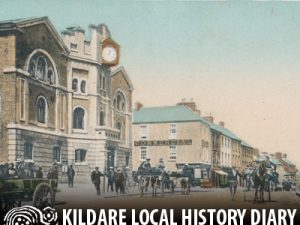 Naas Local History Group  – A.G.M.
Naas Local History Group's A.G.M. will take place on the 20th of January 2020. All are welcome to attend and the floor will be open to invite new committee members.
For members who wish who renew their annual subscriptions, or if new members wish to join,  subscriptions can be paid on the night. Subscriptions are €25 per person. A family rate is available.
The A.G.M will be followed by a slide presentation Welcome to your town – Naas. This will be a presentation of images, drawings, etchings, postcards, etc., of Naas in past times for new and long established residents of Naas to enjoy.
As always refreshments will follow the talk!