Leixlip History Club
Leixlip History Club was formed in November 2010.
Leixlip History Club holds its regular meeting on the third Thursday of the month in Leixlip Community Library at 7.15 p.m.
---
Leixlip History Diary
Nov
21
Thu
2019
Too delicate a subject to touch: VD and the Westmoreland Lock Hospital

@ Leixlip Library
Nov 21 @ 7:15 pm – 8:45 pm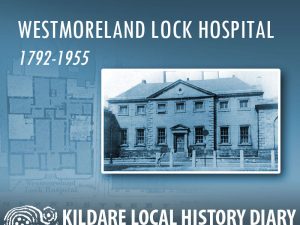 Too delicate a subject to touch: Venereal Disease and the Westmoreland Lock Hospital Dublin (1792-1955)
This talk by Dr Jean M Walker will present an overview of the Westmoreland Lock Hospital for the treatment of venereal diseases, which was once situated in Dublin's Townsend Street.
The sometimes unruly lives of the patients, staff, and management of the 'Lock Hospital' will be explored in this talk encompassing its foundation through to its closure in 1955 due to it being considered unfit for purpose and an embarrassment to the City of Dublin. The Hospital building was demolished soon after its closure and the memory of the institution itself shared a similar fate; being quickly forgotten.
Admission free.