The Origins of Christmas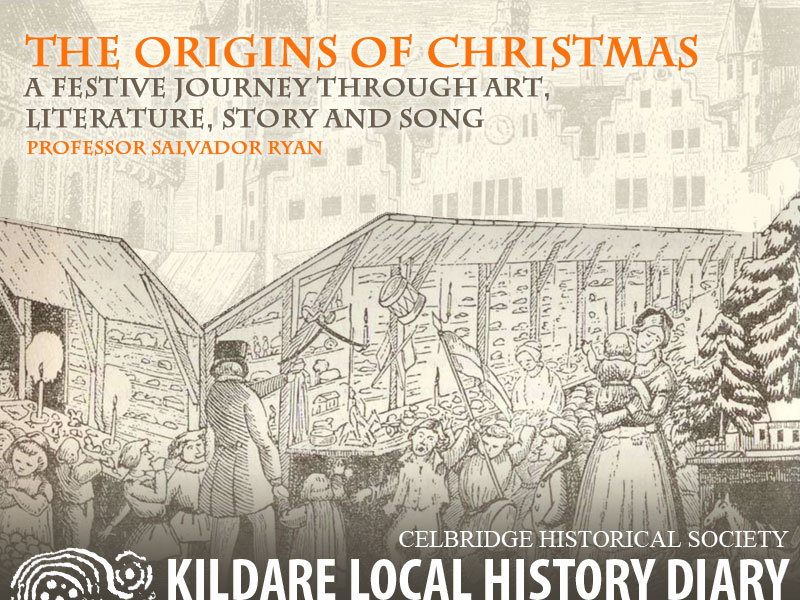 Celbridge Historical Society
"The origins of Christmas: a festive journey through Art, Literature, Story and Song"  – A talk by Professor Salvador Ryan, whose most recent book 'Christmas and the Irish: a miscellany' (Wordwell Press) was published at the end of November. It follows the success of his three earlier volumes on Death, Marriage and Birth and the Irish (2016-2021). In each of these, some seventy contributors delve into history, folklore and their own experiences, in a succession of short tales, some serious, some humorous.
Note:  Copies of Professor Ryan's recent book 'Christmas and the Irish, a miscellany', will be available.
Doors open at 7.30, talk at 7.45, followed by festive refreshments – tea, coffee, mincepies and chat.
Everyone is welcome.
We thank the staff of Celbridge Library for all their assistance with this event.
Salvador Ryan is Professor of Ecclesiastical History, St Patrick's Pontifical University, Maynooth where he writes on religious and cultural history from the Middle Ages to the twentieth century. Other published titles include Death and the Irish, Marriage and the Irish, and Birth and the Irish (Wordwell Books, 2016-21); We Remember Maynooth: a College across Four Centuries (Messenger Publications, 2020); Northern European Reformations: Transnational Perspectives (Palgrave, 2020); Material Cultures of Devotion in the Age of Reformations (Peeters, 2022), and Reforming the Church: Global Perspectives (Liturgical Press, 2023).