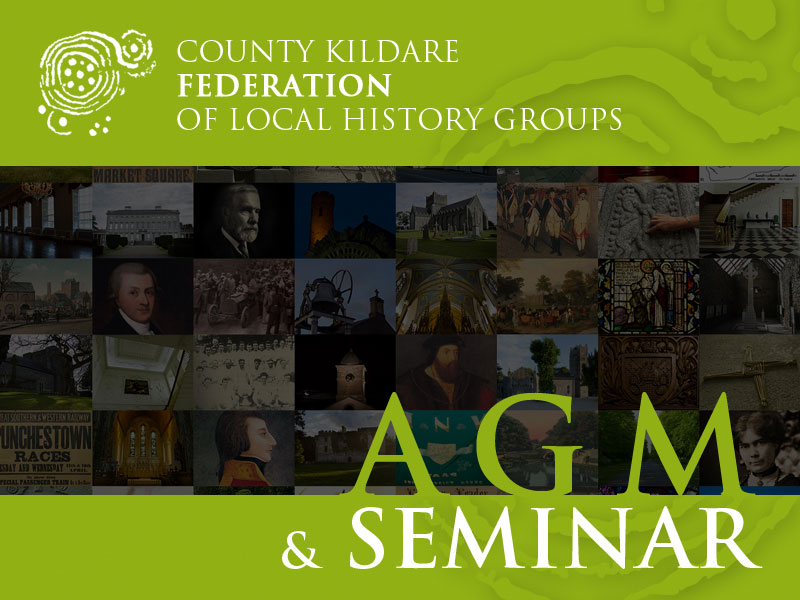 Annual AGM/Seminar at Kilcullen
Kilcullen Heritage Centre was the scene of great interest and activity on a beautiful sun filled morning as local historians from all over the county gathered for their 9th Annual AGM/Seminar. Delegates, numbering in excess of fifty from as far apart as Celbridge in the north to Monasterevin in the south of the county, met to renew old friendships and make new ones in the flagship event of the Federations calendar. Ger McCarthy, Chairman of the Federation, welcomed all the delegates and spoke about it being the one opportunity in the year for the groups to share with each other their interest, experiences and love of all things relating to local history in their respective communities.
The event was formally opened by Bridget Loughlin County Kildare Heritage Officer who spoke of the great work being done voluntarily by the local history groups and the important contribution they made to help people take an interest in their communities. She emphasised the fact that the County Heritage authorities were only too pleased to work with the local groups in promoting local history study and research in the community.
The Mary Carroll memorial lecture was given by Liam Hackett, archaeologist, Headland Archaeology Ltd. on the recent finds by the National Roads Authority in excavations in Co. Kildare. Liam had worked personally on these excavations and had a huge amount of first hand knowledge. He captivated the large audience with his personal style and very entertaining account of the experiences they had on these excavations and the finds they had encountered. This included a very intriguing burial site which contained both skeletal and cremated remains interred together.
Local historian Larry Breen gave a very interesting talk on what he called "Hidden Gems and Forgotten People" which had developed from a project being shared by the Ulster Federation and the Southern Federation in a joint activity. Larry presented the work that had been completed by the Naas Local History Group. Local groups were encouraged to look for lesser known subjects and people in their own communities and record and document the subject. This research would augment the more usual tourist orientated material and provide an important local archive. The idea would be to extend it to a wider range of History Groups both north and south of the border and the Kildare groups were invited to get involved.
Mario Corrigan from the History and Family Research Centre then launched a new book, "A Topographical Dictionary of Co. Kildare in 1837". This new book had just been published by the Local Studies, Genealogy and Archives Dept. Kildare County Library and Arts Services. Samuel Lewis's Dictionary is recognised as one of the most valuable sources for the history of Kildare in existence.
After an excellent lunch at Fallons of Kilcullen the historians headed for the Hill of Dun Ailinne and their most eagerly awaited field trip. The sun still shone brightly as the happy wanderers climbed the famous hill in the clear afternoon light. Des Travers, local historian and an acknowledged authority on Cnoc Ailinne gave a fascinating account of this ancient site as he guided the party with great expertise along the summit and around the Henge. This ancient Royal site believed to have been used for over 2000 years is the largest pre-Norman site in Ireland. The site had been excavated between 1968 and 1974 and there had been more recent investigations using Geophysical measurement techniques. Many artefacts had been found. The view from the summit of this ancient hill was breathtaking, presenting a 360 degree vista of all the surrounding countryside.
The 9th Annual seminar of the Kildare County Federation of Local History Groups concluded, still in bright sunlight, on an ancient site often neglected, but still capturing a time long past but not forgotten.
---
9th Annual Seminar – Saturday 27th of September 2008
Venue: Kilcullen Heritage Centre
Programme
10.15 am Welcome. Gerry McCarthy, Chairman, Co. Kildare Federation.
9.30 am Assembly and Registration. Tea/Coffee.
10.20 am Opening Address. Bridget Loughlin, Co. Kildare Heritage Officer.
10.35 am Mary Carroll Memorial Talk. "Archaeological Finds- Co. Kildare" Noel Dunne, Archaeologist, National Roads Authority.
11.10 am "Hidden Gems and Forgotten People" Larry Breen, Naas Local History Group.
11.40 am Launch "A Topographical Dictionary of Co. Kildare" – being a Compilation of Kildare entries from Samual Lewis's 1837 book. Mario Corrigan, Local studies and Archives , Kildare Co. Library.
1215 pm AGM
12.35 pm Society Speake.
13.20 pm Lunch ( Buffet ,Open Sandwich-Fallon's Pub , Kilcullen )
14.45 pm Field Visit. Dun Ailinne. A unique opportunity to visit this remarkable Royal Site, courtesy of the land owner, Robert Thompson.
Total cost 20.00 Euro per person-price includes all presentations, buffet lunch and Field Trip . Note: we would recommend that stout shoes are worn for the field trip!!
Bookings: Brendan Cullen, 5 College Road, Clane or Tel. 045 861159. Please book by Mon. 22nd. Sept. 2008.