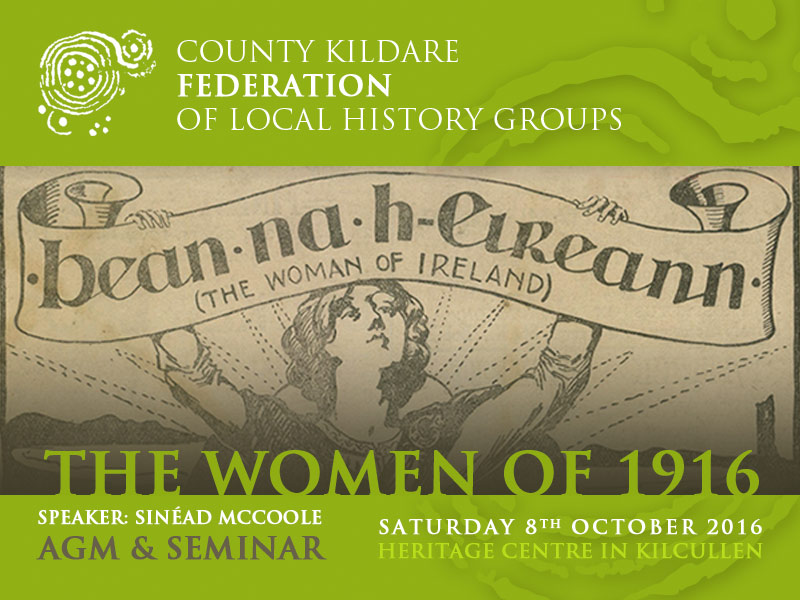 Federation Seminar 2016 – 8th October 2016 – 'The Women of 1916'
The seminar will include a talk by Sinead McCoole titled 'The Women of 1916' and will also feature an exhibition on the same theme provided by the OPW.
A close look at the role and legacy of the women in the Rising of whom Eamon de Valera said 'they are at once the boldest but the most unmanageable of revolutionaries', while General 'Bloody' Maxwell considered them 'silly little girls.'
Constance Markievicz had some advice for women activists: 'Leave your jewels in the bank, and buy a revolver.' Most of the women who became involved in the fight for Ireland's freedom did not have jewels to swop for guns, but the change in their circumstances and lives would be just as radical. Setting aside their roles as dutiful daughters, wives and mothers, they became dispatch carriers, couriers, gunrunners and nurses, while some fought guns in hand side-by-side with their male comrades
11.30-12 noon Tea/Coffee/Registration
12.00-1.00 p.m. 'The Women of 1916' by Sinead McCoole
Sinéad McCoole is a historian and member of the Expert Advisory Group on the Decade of Centenaries. Her books include the highly acclaimed Easter Widows: Seven Irish Women who Lived in the Shadow of the 1916 Rising and No Ordinary Women: Irish Female Activists in the Revolutionary Years 1900-1923.
The Seminar will be followed by lunch in Fallon's, Kilcullen which is optional. The cost of lunch is €10.00 and you can book on the day.