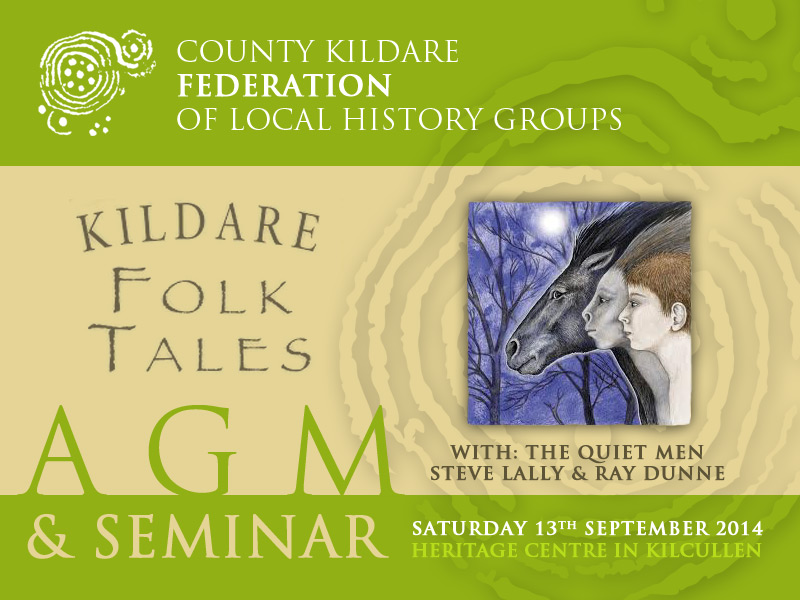 The theme will be the Folklore of Co. Kildare. The public part of the event will feature the launch of Kildare Folk-Tales by Steve Lally, followed by an exciting performance of storytelling, music and recitations, by The Quiet Men, Steve Lally and Ray Dunne. Kildare Folk-Tales will be available to purchase on the day. The Seminar will be followed by lunch in Fallons.
Groups are reminded that the popular 'Society Speak' segment of the Annual Seminar allows member groups and individuals to tell those present about their current activities and projects. Groups should prepare a short presentation (5 mins max) in advance and nominate a speaker.
The Seminar relies on member groups to encourage delegates to attend and to spread the word to anyone they believe might be interested.
Member Groups, whose membership is outstanding, are reminded that the annual society membership fee of €20 is now due.
Thank you
James Durney (Chairman)
9.30 – 2 p.m. Saturday 13 September 2014
€15 (including lunch in Fallons)
The main public event – the launch and entertainment – is free – the €15 is for the whole event and includes lunch in Fallons.