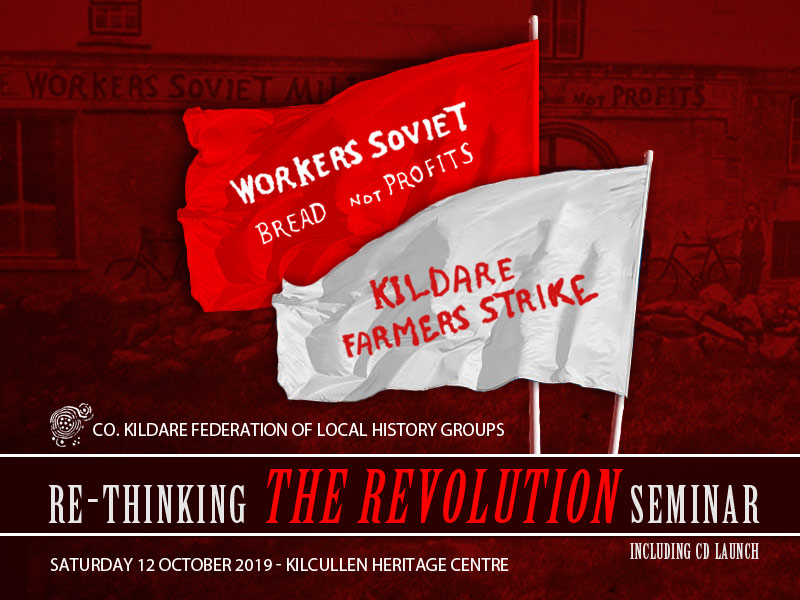 Saturday, 12 October 2019, Kilcullen Town Hall & Heritage Centre
9am – Annual General Meeting of the Co. Kildare Federation of Local History Groups (AGM & Society Speak: Federation Members only)
Tea/coffee break
11am (Open to all) – Launch of Songs from the Short Grass, a new CD collection of 13 songs from County Kildare (see below for details), produced by the Co. Kildare Federation of Local History Groups & Kildare Library & Arts Services with funding from Creative Ireland.

The CD launch will be followed by talks on:
The Forgotten Revolution, Workers and the War of Independence, 1916-1921, by Liam Cahill
The Kildare Farm Labourers' Strike of 1919 and its Wider Contexts, by Terry Dunne
CD Launch and Talks are free and open to all.
Chair of KCC will be present to launch the event.
Lunch at own expense.
CD Tract Listing
Songs from the Short Grass
Darren Brereton

Kildare Hunting Song
A man You Don't Meet Every Day
Shean Bhean Bhocht
The Ferrets of Kildare
Curragh of Kildare (sung by Vicki Cahill)
Hymn to St. Brigid
Pretty Susan Pride of Kildare
Bodenstown Churchyard
The Old Bog Road (sung by Dave Dunne)
Wake in Kildare

Bonus Tracks

The Battle of Prosperous
The Curragh of Kildare (sung by Darren Brereton)
Hymn to St. Brigid (reprise)